"There are many websites that claim to be easy to edit, but few as easy and as comprehensive as Live Edit's Aurora package... Everything you see on this site was created by us at Love Your Music School in no time at all! We never opened a technical manual and we don't know HTML (nor do we wish to!). With just some basic simple understanding and training provided by LiveEdit, you can create maintain and change up your website anytime you like! I call that FREEDOM!!!!! Being tied to an HTML programmer to do even the simplest changes, can be costly and time consuming... Don't delay, you need to be dynamic in business and make changes on the fly (hense the word Live Edit) and you can make changes and see them immediately go live to your customers! We call that Sweeet!!! Remember changes and updates = Higher SEO!" Doing your newsletters and e-mail blasts from the LiveEdit site adds content and pushes you upward in the search engines rankings!
Check out our School's website which we also maintain and update regularly at www.AvalonMusicCenter.com. LiveEdit's team made it a breeze for us to get this site off the ground!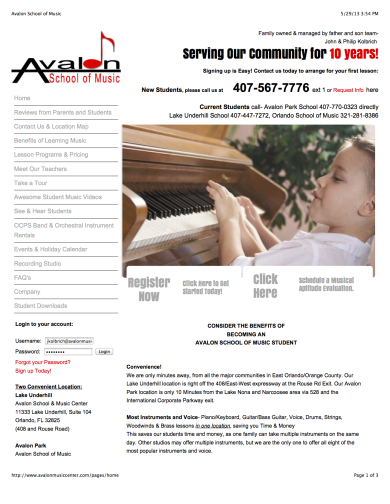 This is a screen shot of our school's website. See our full school website (www.AvalonMusicCenter.com) and check out the various pages. The framework and basic components were transferred over from our old site (which looked like this: www.OrlandoSchoolofMusic.com) by the LiveEdit team as part their original set up. Since they turned it over to us, we have made all kinds of tweaks, edits, and updates.

Say Hello To Your
Complete "Digital
Marketing Platform"
User-Friendly • Mobile-Ready
There are many reasons to use LiveEdit. One of the key ones is the fact that they are an API Partner with MINDBODY Online. As mentioned in our MINDBODY section, API partners have seamless integration aspects with the MINDBODY database so your customer does not have to leave your website in order to get to their MINDBODY login... On our School Website when you click on "Request Info" or "Register Here" the form that comes up is part of the MINDBODY database (transparent to the user) and it is as if they are typing the info right into the add a new client screen on MINBODY! When a new client does this, we get an automatic email saying "You have a new Client" and it gives us their info for us to immediately follow up with. We receive 2-3 new student inquiries every day, and we want to make it as easy as possible for them to give us their info and register as students. LiveEdit is what make that possible in the most efficient way. 2-3 inquiried per day means that every week we are processing 10-15 new clients coming to us via the web for lessons and all we need to do is set them up with a lesson schedule and swipe their CC for billing when they come in. LiveEdit is now an integral part of enrolling new students, because it's so easy! All of our advertising drives folks to either call us or visit our website. With 1000 unique visitors to our website per week, we figured that it had better be good and easy to navigate when they get there! A rule that we learned from our friends in the highly competitive Yoga Industry is that it shouldn't take a potential client more than two clicks to buy something or register. LiveEdit has made that crutial point possible for us.
Centralized Marketing
Dashboard Content Control Can Turn You Into A Digital Marketing Dynamo
Aurora by LiveEdit offers dashboard control of your digital marketing tools. Manage your full and mobile websites, distribute email with a compact and efficient email marketing system, and publish to your blog - all from one location!
Aurora eliminates extra work by automatically building a mobile site using the elements from your desktop site.
Drag-and-drop features enable you to easily manage text, images and video, all in a search-engine-friendly package.
Email Blasts! Send messages to customers - or reach new potential customers - with a compact email marketing system.
Manage your digital content in one location: website, mobile site, blog, email, social media, galleries, and more.
Leave the search engine optimization details to Aurora. It gives you easy-access fields that search engines simply love! Behind every Aurora by LiveEdit website is a secret weapon: simple, stable code that's easy for search engines to index. Combined with easy-access meta tags for page titles, descriptions and keywords, it's an organic search engine optimization one-two punch that'll get your pages noticed.
Instant Mobile- You get two sites in one!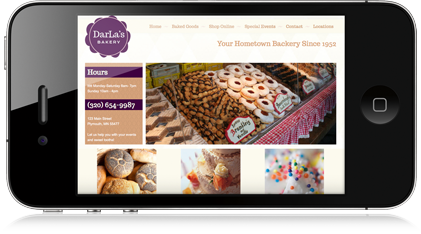 Shared Content Makes Your Site Mobile
To The Core - Instantly, Easily
With the LiveEdit digital marketing platform your desktop and mobile sites share content – as much or as little as you like. Aurora's backend system handles the rest. No need for duplicate content. No need to manage two sites.
If you have a smart phone you can type in www.AvalonSchoolofMusic.com or www.LoveYourMusicSchool.com and you will see the automatically generated Mobile Ready apps we have for both of these sutes running on Aurora... It also incudes a free downloadable icon that takes your customer right to your site every time!
If you do a request for info she will get back to you ASAP, but you can also call her direcly at (320) 293-2175 or email her at: alyssa.schreder@getliveedit.com (She is also a fellow musician!)